OLA hosts and maintains local city guides via the Internet for the following cities of Kentucky: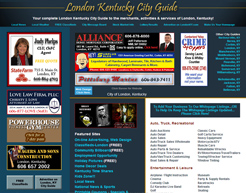 Other City Domains we own. "Click here"
Our guides work similar to the Yellow Pages of a phone book. If a user wants to find a shoe store, they can simply click a link to Clothes/Shoes to see all stores listed, or search the site for "shoes". Other than an index listing in our guides we offer banner advertising for your business, which randomly runs in categories of each guide as well as the home page. This provides even greater exposure through our city guides. We strive to make our city guides the best and easiest to find for local users as well as users worldwide. Without a doubt, OLA has risen to this challenge while providing clients the absolute best exposure for their advertising dollar.